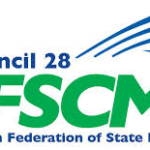 Website
AFSCME Council 28 / Washington Federation of State Employees (WFSE)
The Washington Federation of State Employees (WFSE) is recruiting to fill a Legislative and Political Action (LPA) Organizer position located in Olympia, WA. Reporting to the Director of Legislative and Political Action, this position is responsible for coordinating the union's efforts to engage our members in the legislative and political action program, including the member lobby program, political volunteer program, and PAC recruitment program.
Assists with the WFSE Political Program, including educating the members about the political priorities and recruitment of member volunteers. Develops tools and provides resources to staff and leaders to helps engage more members in the lobbying, political and voter registration efforts.
Additional duties include:
 Tracks and maintains member date relevant to the LPA department and provides reports as required.
Provides support to the endorsement process, including staffing, interviews and recruiting members in the process.
Works with the Communications staff to develop materials, mailings and social media in support of the lobbying and political program.
Manage member political education efforts via phone banks, direct mail, email, and other tools.
Use VAN Action Network, along with other member outreach/recruitment tools and participate in external coalition meetings and plans.