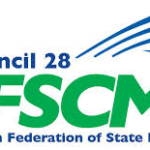 Website
AFSCME Council 28 / Washington Federation of State Employees (WFSE)
The Washington Federation of State Employees (WFSE) is recruiting to fill a Council Representative position located in our Tacoma and Seattle Field Offices. This position works independently and part of a team to coordinate and facilitate internal organizing and conduct worksite visits to engage members and offer solutions to workplace issues. Council Representatives activate membership by motivating and assisting members in coordinating workplace job actions and rallies; interacts appropriately with members to resolve workplace issues through member mobilization, both in groups and in a one-to-one setting; and schedules, advertises, and conducts workplace informational meetings.
Council Representatives conduct political grassroots organizing by scheduling, advertising, and conducting PEOPLE and Get Out The Vote (GOTV) presentations; schedules, advertises, and conducts training for stewards, MAT Leaders, and members; and mentors stewards. Additional duties include:
Utilize knowledge of various collective bargaining agreements to effectively processes grievances on behalf of members;
Attends and presents cases to Local and Statewide Grievance Committees;
Represent members and attend pre-disciplinary (Loudermill) meetings and attends and presents cases at the top agency step of grievance hearings;
Attends monthly local membership meetings; and
Attends local and regional Union Management Communication Meetings.